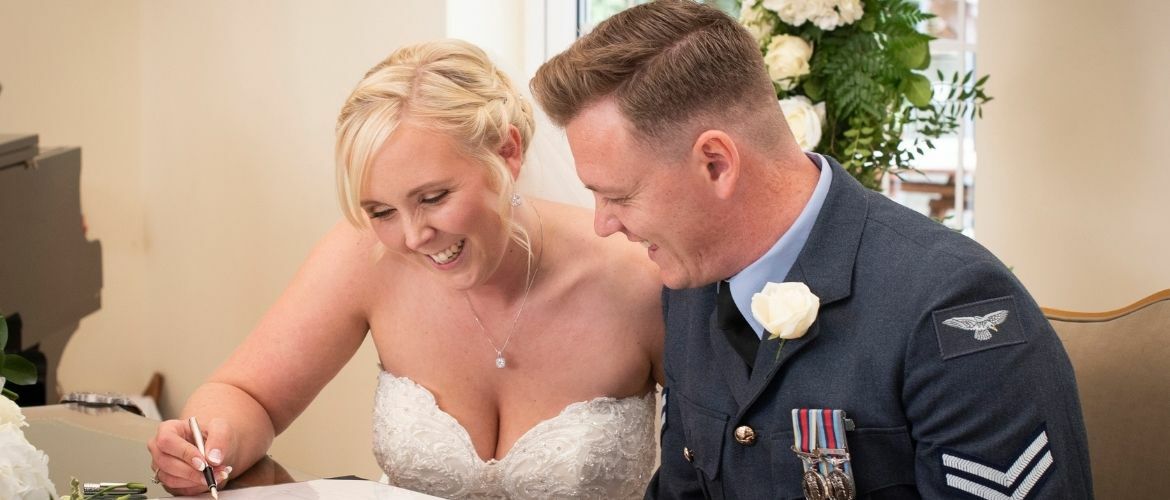 How we met – first date …where and when - was it love at first sight?
We actually met at secondary school a very long time ago, not sure if it was love at first sight at 12. First date, to be honest neither one of us remembers however we do remember our first kiss being on the football pitch at Bradwell Abbey.
The proposal (where and when)
Aden proposed at home on New Year's eve 2017/2018. We never really celebrate NYE, it had just passed midnight and we were watching the celebrations on the TV. Madness were performing it must be love when Aden went upstairs and came back down with a present for me. As I unwrapped it was a frame with a map of the stars on it dated that 01/01/2018. There was a little poem that he had written under it asking me to marry him. When I moved the frame there he was on one knee.
Sophia Tolli
Moss Bros – all the groomsmen and the groom after he got changed out of his RAF Uniform. Father of the bride was Paul Smith.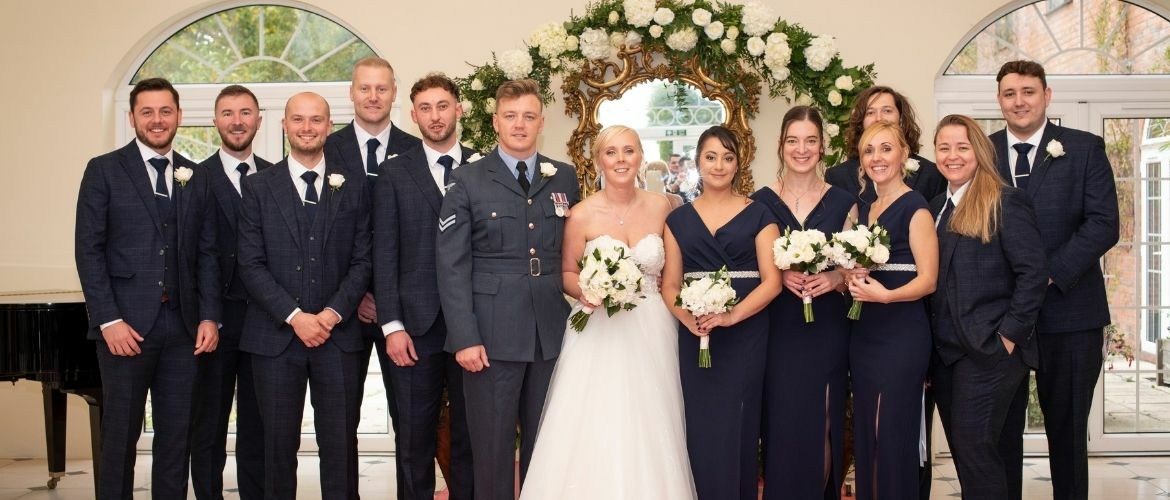 Our budget was spent on ……
Flowers, fireworks and videographer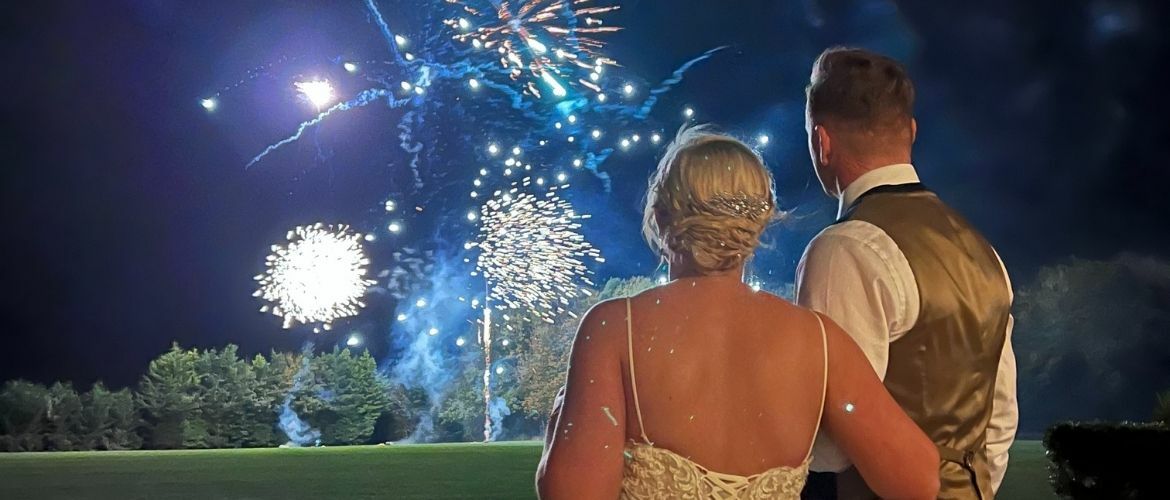 Planning is the key to a stress free wedding.
The idea/plan that really worked for us was ……
Writing lists!! Ticking off the jobs you have done and delegating to people you trust on the day so you can relax and know the job is in good hands!
The important things you were looking for in choosing your wedding venue
We wanted a venue with a big dancefloor as our family and friends love to dance!! Also space that you didn't have to leave for the room to be 'turned' around ready for the evening guest was a must for us.
Wedding specialists we chose to complete the look and our ideas were ……
Florist – Cake – Disco/band etc.
The disco was the DJ Whittlebury Park recommended and came with our package - UK DJ.
Florist – The table centre pieces and stair case was decorated by Charlotte Ayres.
Bridal party flowers and moongate arch was Bloomfields
Photographer – Pixie Pix
Videographer – Ayelle
Flower Wall and light up signs – Style it Party Hire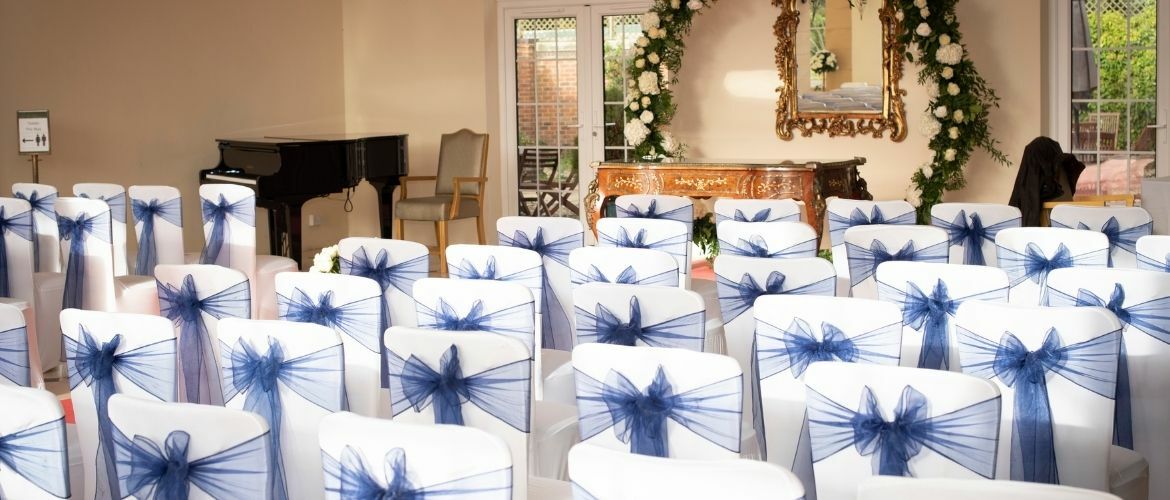 The best Part of the day was ……
The fireworks, we only told a very small amount of people about the fireworks and it was a great surprise for all our guests!
If we could give one tip to other couples it would be ……
Plan well, make sure all details of suppliers are given to the venue and relax! It's your day do it your way and if your organised you won't need to worry because you can enjoy your day your way!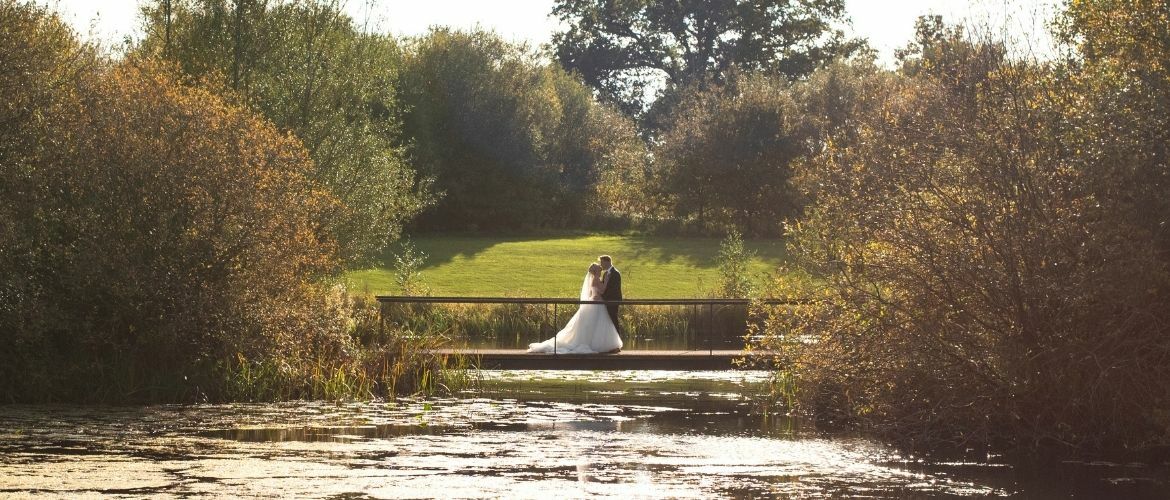 Whittlebury Park were the best wedding venue for us! With all the changes we had due to covid I can honestly say you will not deal with a better wedding venue. Every change (and there were a lot!) was made with their support every step of the way. Having worked within the even industry I have dealt with a lot of venues and I can honestly say I have never met a more accommodating venue than Whittlebury Park, nothing is too much trouble.
Janine is just outstanding at her job, she is organised, polite, accommodating and just brilliant at her job! You will not find a better person to deal with and help organise your wedding.
Words cannot thank Janine and Whittlebury Park enough for looking after us so well on our wedding day. I would highly recommend Janine and Whittlebury Park over and over again to other couples.
If you want a wedding to remember, beautiful venue and just generally lovely people to organise and help you celebrate your big day, Whittlebury Park is the venue for you!!
Can we do it all over again please.
Lizzie & Aden