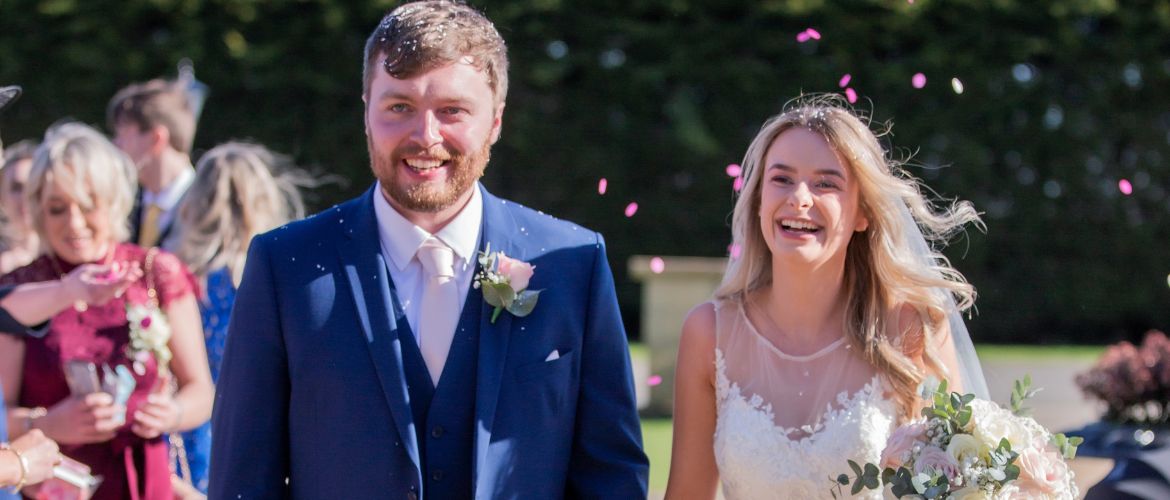 How we met – first date …where and when - was it love at first sight?
We met at school when we were 15 years old so our first date was probably a trip to KFC! We were probably too young for love at first sight but it definitely grew over the years.
On a long weekend trip to Amsterdam, Dillon decided to plan a surprise evening and took us up the A'DAM tower. The original plan was to propose on the Lookout swings but he is terrified of heights and didn't think that through! Instead, we sat in the bar with a few drinks looking out onto Amsterdam, which is where he asked the question and I said yes!
White, A-line, sparkly and from Wed2B – It was called the Carlotta.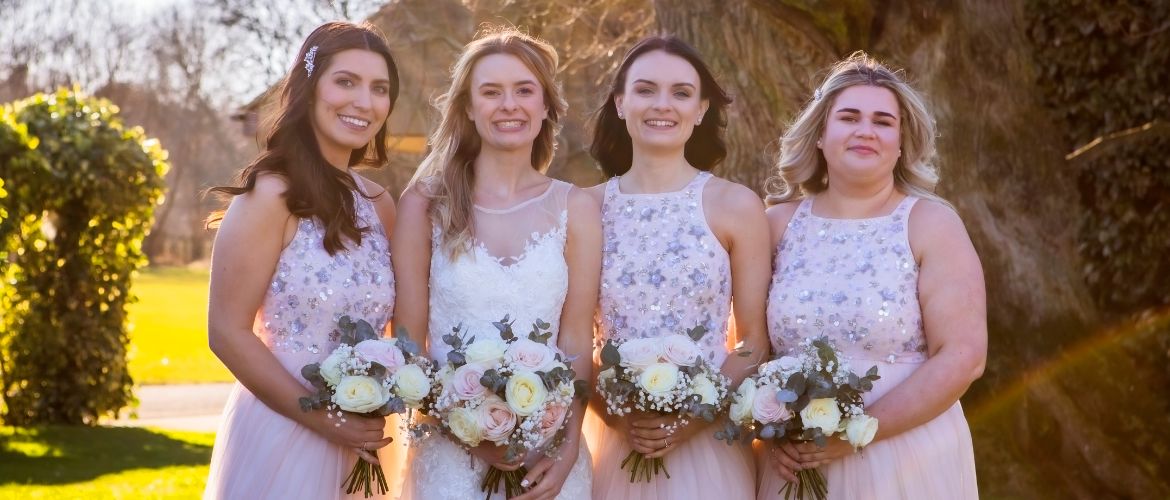 Royal blue suits from M&S with a blush pink tie. We were all relieved the suits still fit after two years of waiting because of the pandemic!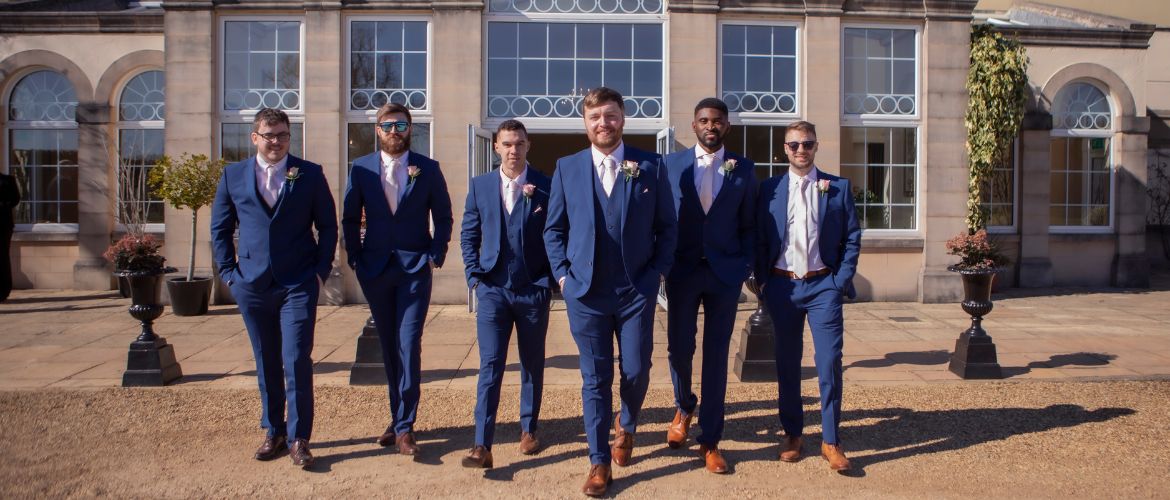 Our budget was spent on ……
Photographer, flowers and our honeymoon to Mexico.
Planning is the key to a stress free wedding.
The idea/plan that really worked for us was ……
Staying calm and making sure we enjoyed planning the special day. Despite two cancelled wedding dates due to the pandemic, we made sure we had fun planning the wedding and remembered it was going to be an amazing day no matter what, so we didn't stress about the tiny details. The Whittlebury wedding package was a massive help in making it a stress free experience as all of the recommended suppliers were organised and hassle free.
The important things you were looking for in choosing your wedding venue
Having a big open space was really important to us as we didn't want the wedding to feel disjointed. The Pavilion was a great venue as the dance floor, tables and bar are all in one area so everyone felt included no matter what they were doing. It was a great atmosphere all day!
Wedding specialists we chose to complete the look and our ideas were ……
Florist – Cake – Disco/band etc.
Venue flowers and table centre pieces - Charlotte Ayres
Wedding party flowers - Jade Flower Boutique by Georgianna
Cake - Cakes by Kit
Disco - UK DJ (Recommended DJ by Whittlebury Park)
Photographer - Emma Brooks Photography
Videoographer - Milton Keynes Professional Wedding Videos (Russell North)
Flower wall - Dreamcatchers
The best part of the day was ……
Having all of our family and friends together in one place. Especially since the pandemic, it had been a long time since we had big family gatherings so looking around and seeing everyone laughing and smiling on the dance floor was the best feeling! The weather was amazing and we couldn't have asked for a more beautiful day in March. We also loved being able to ride on the golf buggy down to the lake for photos, that was so much fun!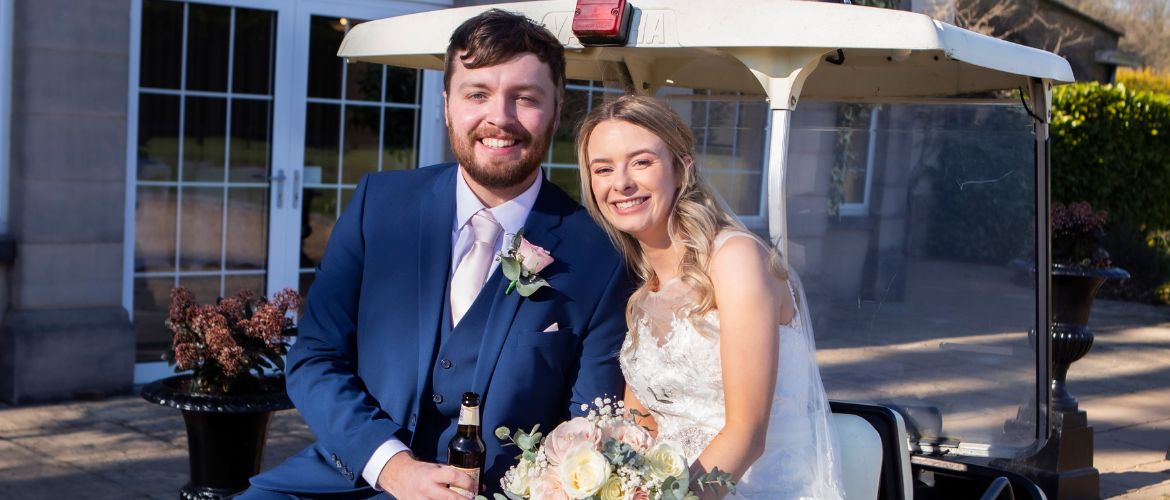 If we could give one tip to other couples it would be ……
Enjoy every single minute! We were given the advice to take moments away from everyone to just enjoy each others company for five minutes away from everyone. This was definitely great advice as it gave us the opportunity to be together, take everything in and watch everyone having a great time.
We are so happy that we picked Whittlebury for our wedding venue and we haven't stopped getting compliments about the day and how beautiful the venue was (the weather definitely helped!).
Janine and the staff at Whittlebury were accommodating and flexible, even through the pandemic where we had to rearrange the wedding date twice. Janine was a great support and offered so much great advice for the day. Lincoln was also a great part of the day and created an amazing atmosphere in the Orangery before the ceremony, he made everyone laugh and the piano sounded great.
We would definitely recommend Whittlebury Park to anyone looking for a beautiful venue, a really helpful wedding planner and all round great atmosphere. It was best day of our lives!
Name: Dillon & Natalie Corby-North Date of Wedding:19/03/2022