Andrew and Allie got married with us at Whittlebury Weddings on 25th August 2019 and happily shared their thoughts on the planning and special day with us...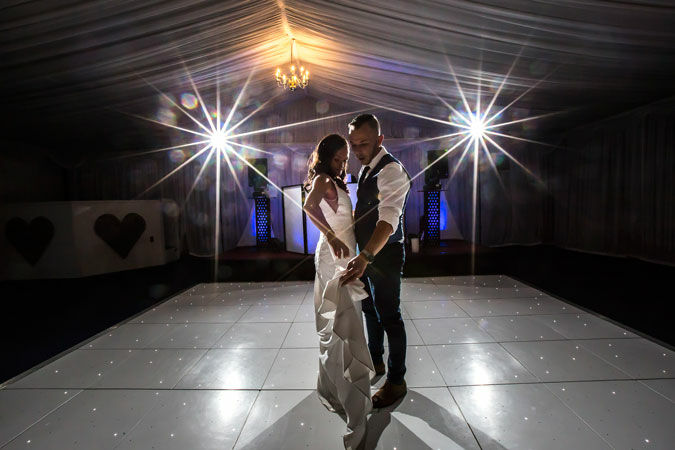 Allie-
We first met online almost 4 years to the day of the wedding. After a week or so of messaging and phone calls getting to know each other, we both felt it was time to finally meet and arrange a date, the first date was at a local pub in-between the both of us. There was definitely a spark during our first meeting and Andrew was the perfect gentleman as he could tell i was a bag of nerves, we conversed for hours and attraction to each other grew stronger, it wasn't long after that we had our second date and from then our relationship truly started to blossom.
Andrew-
The proposal was at Stowe Gardens. I'm a keen amateur photographer, I had mentioned to Allie that it would be nice to go for a walk round and take some pictures, we had picked a beautiful late Autumn day with clear blue skies but with a cold chill in the air. We stopped by the bridge that passes over the lake and knew it was the perfect location. I asked Allie to stand looking over the lake and whilst she did this I set the camera up to enable me to capture the moment for us to cherish, quickly running to her whilst counting down from 10 for when the photos were to be taken, I dropped to one knee and asked that all important question, capturing every emotion throughout a series of photographs. To say she was shocked is a understatement and to my relief, of course the answer was YES.
Allie-
The dress was a beautiful A-Line style from Wed2Be in an off white/Ivory colour with lace and had a low back.
Andrew-
The suits were combined with a summer tweed, light grey jacket, Navy slim fit chinos with navy braces, and as I wanted to stand out ever so slightly, I also wore a navy tweed waistcoat.
Our budget was spent on...
Allie-
The bulk of the budget went on venue, photographer, suits and dresses mainly. The venue was decorated beautifully in our choice of theme with minimal additions needed at extra cost, although we did try to do a lot of DIY items ourselves including lawn games, photo booth and props, we did spend a fair bit on a light up dancefloor which we are so glad we did, as it looked incredible.
Planning is the key to a stress free wedding...
Andrew-
Having a diary/planner to write every little detail in with regular check backs to ensure we were staying within our budget. The package we chose with Whittlebury Hall helped hugely as all the research for cake makers, florists, DJ etc had been done for us and all we had to do was meet with them to choose our ideal cake and flower arrangements, all of which came in a the price quoted by the staff at Whittlebury.
The important things you were looking for in choosing your wedding venue...
Allie-
An Idyllic landscape as our pictures were very important to us, so choosing somewhere with a excellent surrounding was key, upon this we needed somewhere relatively local as a majority of the guests lived close by and also a hotel on site to allow guests to stay if they wished.
Wedding specialists we chose to complete the look and our ideas were...
The florist, cakemaker and evening entertainment DJ were all recommendations from Whittlebury Park and all did a fantastic job. It was stress free and easy to choose our cake and flower arrangements and would strongly consider using them if your planning on having a wedding at Whittlebury Park.
Photographer- John Fox (Jems Photography)
The best Part of the day was...
Quite honestly, the entire day was magical and almost everything we could have imagined, as expected there were some minor glitches but this only adds to the fun and enjoyment of talking about it for years to come.
It was truly amazing and if we could do it all again, we would definitely do it here.
If we could give one tip to other couples it would be...
If you are reading this then you have either booked or considering booking at Whittlebury, it was our first venue visited when deciding where we would like our wedding to be held and the only venue we looked at as we were so overwhelmed with the location, the help offered by the staff and of course the cost of the entire package.
Find a photographer that is familiar with the staff and the venue.
Book the venue and the photographer first to ensure you guarantee the date you want to wed, all the other bits can be arranged/purchased in importance order but ensure you keep to your budget as it is easy to over spend (as we found out, but even then, it's one day that will be with you forever)
There's not much else to say except thankyou to all of the staff at Whittlebury for making our day as beautiful and perfect as it was.
A special thanks to Janine and Kate for being amazing throughout the planning of the wedding from day one, right up to our big day. Also, a huge thanks to Michael who ensured that everything went smoothly and successfully throughout the day, he was a true gent and went above and beyond with everything we or our guests had asked. With the added surprise of offering us a complimentary upgrade to a very luxurious Suite, it was the perfect end to a perfect day.
Thank you so much.
Andrew & Allie Souter Date of Wedding:25.08.19