Beau weddings was born from a passion and a dream, a creativity overload and a desire to succeed in the world of all things to do with weddings ……and this is the very reason behind the success of Beau weddings and the solid foundations that we carry into the future. Beau weddings is a vocation, a love, a winning combination of us and you. Our Brides to be's, our grooms to be's, and the faces behind our parties and celebrations are important to us, YOU are important to us, We listen, We take note, We create and We make sure your dreams become reality.

We are so proud and honoured to be the preferred venue stylists in venues throughout Northamptonshire and Bedfordshire, our extensive knowledge on venue dressing allows us to design, advise and create the perfect package of chair dressing, table centre design, table planners, card collectors, aisle dressing, sweet tables, vintage crockery and so, so much more. We offer dressing with fairy and festoon lights, bunting and pom poms, we can enhance the most beautiful venues and totally transform blank canvas venues. So whether your chosen venue is in Northamptonshire, Buckinghamshire or Bedfordshire we are the wedding venues stylists for you.
Lisa & Sarah
Services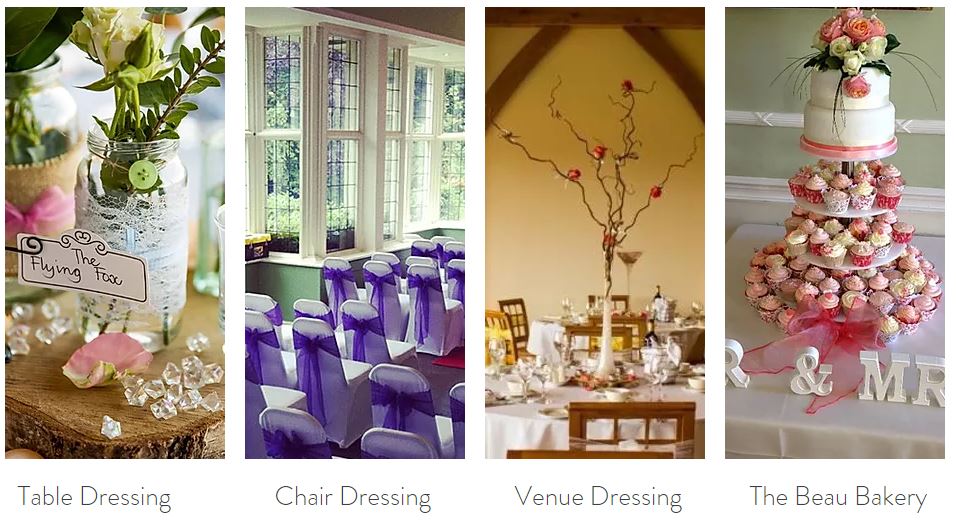 We asked the lovely ladies at Beau weddings a few questions about their business and why they love it...
How did your career begin?
With a background in the hotel and events industry and a passion for weddings the business was created and has built and developed over the years to now where we offer bespoke venue styling for weddings and events
Apart from understanding, the vision of the couples themselves, what other aspect of your job is ensures a successful wedding?
We pride ourselves on our attention to detail, sharing our creative expertise and always ensure we over deliver
Why do you love your job?
Every day brings something new for us, we work brilliantly together and love the wedding process from the first contact with each couple to working with them closely to create their dream day - seeing it all come together for them and knowing that our hard work has created something they love and we are very proud,
Apart from weddings, what else does your job involve?
There are many behind the scenes aspects of Beau Weddings from our finances to our social media presence to planning and delivering wedding fairs and showcases to product development and maintenance of our products
What would you say to anyone thinking of doing your job as a career?
be creative, be prepared to work hard and to say no to some social events at the weekend!!
Is there a particular wedding and personal highlight that you will always remember?
We have had the privilege to work with so many fabulous couples over the years, it's always so special to be included in the planning and decision making for their big day ..... we could never pick a favourite!
How do you keep up-to-date with the latest trends?
We follow lots of inspirational both local and international wedding suppliers online, we love instagram and find this a brilliant way of seeing what's happening and what's upcoming in the industry.
Contact Beau Weddings www.beauweddings.co.uk